Rewritten Insider: Hackney Wick & Shoreditch
Welcome to Hackney Wick & Shoreditch - home to the Rewritten
flagship store
and our new and exciting pop-up shop! Both East London areas are packed with some of the most excellent bars, restaurants and cafes that London has to offer. We are well aware of how difficult it can be to get all of your bridesmaids in one place, so whether you are looking for the perfect pre-appointment brunch spot, post-appointment beer and pizza or a light lunch bite - we have the lowdown on where to go in the area.
Hackney Wick
RULE ZERO

BEST FOR: COFFEE & LUNCH


You'll be able to find Rule Zero very easily, based just opposite the Rewritten Studio. Head up the new bridge that takes you towards Stratford, and you'll find this lovely cafe/restaurant on the canal which offers great coffee, lunch and booze! Perfect for any time of the day, before or after your appointment. They also have a games hub upstairs if playing a bit of table top gaming is a bit of you!
HWK


BEST FOR: COFFEE & COCKTAILS


HWK
 is a cafe and events space situated next to Hackney Wick Station. Team Rewritten love grabbing their morning coffee from HWK, or swinging by after work on a Friday for a cocktail in the bar or garden (The Lot). Keep your eyes peeled for their restaurant and shop hitting HWK soon!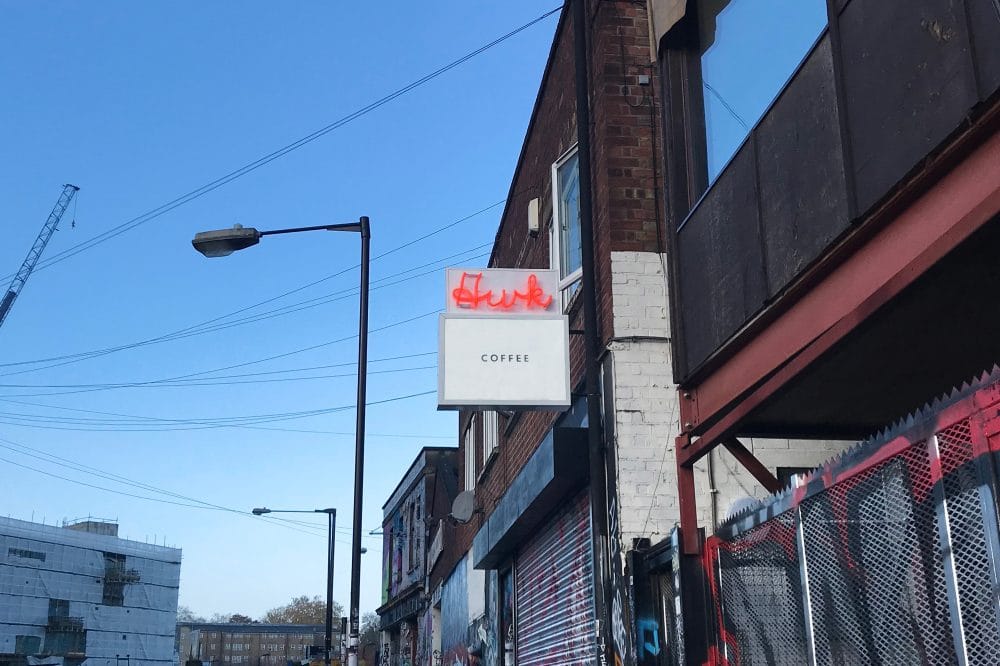 CRATE BREWERY
BEST FOR: PIZZA & BEER
Located next to Hackney Wick station
Crate Brewery
serves the most delicious stone-baked pizzas alongside a fantastic beer selection (and wine too if beer isn't your thing) everyday from 12pm. In summer there is no greater spot than on one of their benches by the River Lea or if you are feeling adventurous jump aboard the
Alfred Le Roy
cocktail boat for espresso martini's and charcuterie. Try the truffle and sage pizza, trust us, it is epic.
BARGE EAST
BEST FOR: CANAL-SIDE EVENING DRINKS AND SMALL PLATE DINING
A stones throw from the Rewritten showroom,
Barge East
is an 114 year old Dutch barge serving locally sourced small plate dishes in the warm and cosy inside dining space (there is a log fire, how cute is that) or overlooking the Olympic village from the outdoor deck. The barge is also draped in fairy lights come evening so it looks pretty damn magical on a winters evening. Open for brunch on Saturdays and dinner and drinks throughout the week.
NUMBER 90 BAR & KITCHEN
BEST FOR: UP-MARKET PUB GRUB & COCKTAILS
This canal-side bar and kitchen has an excellent cocktail list and flies the flag for local artists with a small in-house arts space and revolving roster of guest DJs. Located close to Hackney Wick, team Rewritten are big fans of
Number 90
, we even celebrated Ana's (our Head of CS) 30th birthday there. It was raucous. Serving food daily between 12pm and 9.30pm.
HOWLING HOPS BREWERY, TANK BAR & KITCHEN
BEST FOR: AUTHENTIC COLOMBIAN FOOD & BEER
Next door to Crate Brewery, the tank bar at
Howling Hops
is exceptionally cool - rows of beer tanks are displayed behind the bar and you can dine out on whatever restaurant pop-up is in residence (currently excellent Colombian food - the gluten-free Arepas are to die for) while sitting on long benches. Known to be a bit of a party spot, this late-night venue gets pretty wild later at night with guest DJs and even some table top dancing. They also serve wine and spirits for those non beer drinkers out there.
BREAKFAST CLUB HACKNEY WICK
BEST FOR: MORNING COCKTAILS AND BREAKFAST BURRITOS
A ten minute walk from Rewritten, London's famous
Breakfast Club
has multiple locations but our favourite has to be the canal-side Hackney eatery. Forming part of the innovative Here East campus (there are oodles of restaurants and bars here including a great Vegan place called
Mother
so check them out), the Breakfast Club is famous for its breakfast burritos, salted margaritas and bold decor. Call us crazy but we think it is entirely appropriate to eat breakfast at any time of the day, why not do so while sitting on the Hackney Riviera?
CORNERSTONE
BEST FOR: SOMETHING VERY FANCY INDEED
This award-winning sustainable seafood restaurant by super talented chef Tom Brown serves up simple but sophisticated sharing plates that change daily. An open kitchen, marble-topped bar and Michelin star quality food make 
Cornerstone
 a must for all fancy food lovers and would be a great place for a slap up meal post appointment.
Shoreditch
ORIGIN COFFEE

BEST FOR: YOU'VE GUESSED IT.. A CUP OF COFFEE
Situated next door to our Shoreditch pop-up, Origin is our top recommendation for grabbing a coffee pre or post appointment. Giving us all the East London vibes, this Shoreditch cafe is full of character - expect a brew bar and an illustrative mural taking centre stage.
GLORIA

BEST FOR: A FANCY & FUN ITALIAN BRUNCH, LUNCH OR DINNER
Looking for somewhere nearby where you can celebrate finding your girls bridesmaids dresses? Gloria will provide you with the best Italian food and drinks. Expect pasta dished up from a parmesan wheel, boujee cocktails you won't be able to get your hands on else where, and an atmosphere like no other! One of Rewritten's faves - we highly recommend a visit to Gloria, and make sure you book!
HIJINGO BINGO

BEST FOR: AN AFTERNOON OR EVENING ACTIVITY WITH COCKTAILS AND SNACKS
Looking to team up your bridesmaids appointment with your hen-do, or you and your girls just up for a bit of East London fun? Hijingo Bingo isn't just your regular bingo! Think Japanese style, electronic vibes, pumped up tunes and cracking 'The Lucky Cat' cocktails - get your bingo card at the ready and see what you can win!
EGGSLUT

BEST FOR: GRABBING A QUICK BITE TO EAT
You and your girls looking for a quick bite and need some fuel before your appointment? If you love eggs, then Eggslut is the answer! This global food chain offers more of a niche breakfast/brunch than any old takeaway around Shoreditch (they do have a few bar stools so you can sit in if you wanted). Think posh brioche buns full of gooey eggs and bacon, or scrambled eggs with portobello mushroom - trust us, if you like eggs, you'll find something you love.
THE BRICKLAYERS ARMS

BEST FOR: A CASUAL DRINK
We couldn't not include this local traditional pub. Just 2 doors down from our Shoreditch pop-up shop, The Bricklayers Arms is the go-to for a casual drink. The perfect meeting spot for a G&T or beer whilst waiting for your girls, or to catch up after your trying on session.
We have literally just scratched the surface of how much these exciting and eclectic boroughs have to offer but hope we have given you a taste for more. Now what are you waiting for? Book an appointment to come and see us!! Quite frankly, it would be rude not to.
---